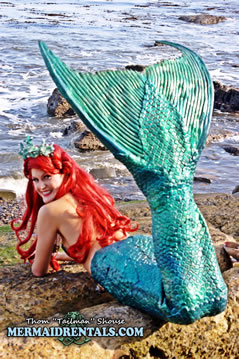 Our beautiful tails can be custom painted to meet your special needs. We also carry long mermaid wigs, shell bras and aquatic props!
Tail Man mermaid tails are a body prosthetic. They are fitted to the body and made of a special urethane. All tails are painted with metallic and iridescent colors to give an extremely realistic appearance.
Our "Wet Tails" photograph beautifully out of the water too!
Ask about our lighter weight latex "Dry Tails", made especially for land and studio shoots.
No mermaid would be complete without long hair and accessories!
Tail Man has a supply of extra long wigs – especially constructed for working under water. We can also provide various options for top coverage, such as shell bras and prosthetic applications. Custom-made mermaid headdresses, jewelry and aquatic props add that finishing touch.
Tail Man has over 30 years experience in special effects, prop making and makeup effects with over 25 years specializing in mermaids.
Please call for a consultation – we can provide expert advice on capturing the best shots possible. More importantly, we work closely with your production company, under water photographers and safety divers, in order to insure a safe and efficient production experience.

Thom Shouse
"The Tail Man"
TAILS AND MORE AVAILABLE FOR:
Aerial Shoots:
Wire flying effects using green or blue screen background.
Dry Shoots:
"Dry Tails" – For studio and on-land shoots.
Underwater Shoots:
"Wet Tails" – For swimming under water. For professional use only. Tail must be accompanied by a trained technician.
FOR PRICING INFORMATION:
Please contact Thom directly or E-Mail him with your special needs. When you consider the cost of having a custom tail designed and manufactured, or the high cost of a digitally created tail, the scale weighs heavily in favor of renting a tail from the "Tail Man". To get the best, hire the best!
YOU CAN CONTACT THOM THE TAIL MAN BY:
E-Mail Address: This email address is being protected from spambots. You need JavaScript enabled to view it.