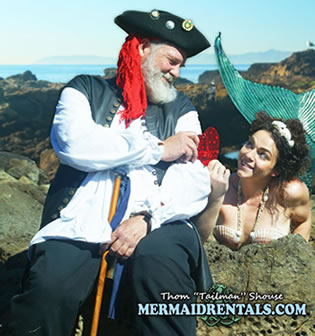 Thom Shouse, a.k.a. the "Tail Man" has been a special effects artist for over thirty years, and has specialized in mermaids and aquatic effects for twenty-five years. Thom is a native Californian, raised in the South Bay of Southern California. As a youngster, Thom frequented the local beaches and became an avid bicyclist, surfer, and skin diver. Thom also has over thirty years of experience as a certified scuba diver.
Growing up so close to the ocean, Thom acquired a great love of the sea and became interested in the folklore and sightings of mermaids. This knowledge became quite useful when he became an aquatic specialist years later.
Thom's career with mermaids began in 1983, when he headed the team that created the mermaid tail for the movie "Splash." Thom went on to create the mermaid tail for the television movie "Splash Too." When he would show up on the set with one or more mermaid tails over his shoulder he was given the nickname "Tail Man."
Thom's mermaid tails have appeared in music videos (Foo Fighters, Incubus, Filter), award shows (BET 2004 Music Video Awards), commercials (Panda Express, Subway), television (How I Met Your Mother, Charmed), print ads (Disney - Year of 1000 Dreams), and magazines (Vanity Fair, Playboy).
Thom's list of celebrity "Mermaids" include: Mischa Barton, Alison Eastwood, Shannon Elizabeth, Leeza Gibbons, Daryl Hannah, Jaime King, Alyssa Milano, Gena Lee Nolin, Jaime Pressly and Anna Nicole Smith. The Tail Man is known worldwide and his mermaid tails have travelled the globe! Thom has sent or accompanied tails to Australia, Canada, Croatia, Cuba, England, Grand Turk, Greece, Malaysia, Mexico, and Spain.
Thom's experience includes:
30 years in special effects, effects coordinating and supervision
Sculpting and mold making in all mediums
Knowledge of plastics, rubber and silicone materials
Head and body casting

Prosthetic design and construction
Weapons handling
Underwater props, costumes, and makeup
Aquatic specialist and underwater coordinator
A Note From The Tail Man:
"I have specialized in aquatic effects and the construction of Mermaid Tails for over twenty-five years. We will continue to research new materials and techniques to provide our customers with the highest quality Mermaid Tails.

I do not recommend the construction of any kind without understanding the many safety issues that are involved when in the water. I cannot stress enough the importance of SAFETY! Remember, humans are not used to swimming with their legs confined in a 'tube'. Any restriction of normal human movement runs the risk of potential danger. Special training and safety people are an absolute must!"

Thom Shouse
The "Tail Man"

COMMERCIALS:

JOHNNIE WALKER
PANDA EXPRESS
SUBWAY
OLD NAVY
HGTV
SILVERTON CASINO & LODGE
COKE ZERO
MILLER LITE
FORD ESCAPE
MOTO RIZER
BRATZ DOLLS
MC DONALDS
AXE FOR MEN
TORONTO ZOO
GREEK TOURISM COUNCIL
MATTEL
EARTHLINK
TWIX CANDY
NESCAFE FRAPPE
BUGLES SNACKS
SO. WESTERN BELL
STARBURST CANDY

MOVIES AND TELEVISION:

THE TONIGHT SHOW WITH JAY LENO
HOW I MET YOUR MOTHER
90210
DISNEY CHANNEL - PAIR OF KINGS
CHARMED
FLIGHT OF THE CONCHORDS
MTV – ROB & BIG
BET AWARDS
A RING OF ENDLESS LIGHT
LEEZA (Syndicated Talk Show)
SILVER FLASH
SPLASH TOO
SPLASH

MUSIC VIDEOS:

FOO FIGHTERS "Resolve"
INCUBUS "Wish You Were Here"
FILTER "Take a Picture"

SPECIAL EVENTS:

DISNEYLAND RESORT
ATLANTIS RESORT
MARRIOTT HOTELS
CAESAR'S PALACE
LANCOME
EVIAN

MAGAZINES AND CATALOGS:

NEIMAN MARCUS 2003
VANITY FAIR
GLAMOUR MAGAZINE
PLAYBOY

PRINT ADS:

PIRATES OF THE CARIBBEAN 4
DISNEY-YEAR OF 1000 DREAMS (Photos by Annie Leibovitz)
EARTHLINK
FLORIDA MARLINS CALENDAR
NESCAFE FRAPPE
VICTORIA'S SECRET
TOTO
PACIFICO BEER
JEAN PAUL GAULTIER PARFUM